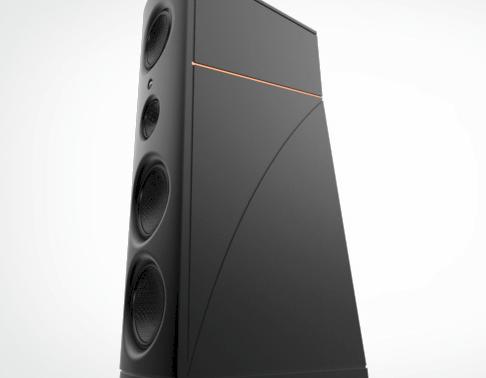 Magico is a company that has garnered much attention from the audiophile community for its formidable speaker designs.  Magico will soon be introducing a new state-of-the-art loudspeaker model, named simply as the Q7.  The Q7 will be Magico's new top-of-the line reference speaker.
DRIVER TECHNOLOGY
In order to achieve the lofty goals of this project under all operating conditions, each and every driver of the four-way, five-driver Q7 has been designed from the ground up.  Effortless to drive, an astounding 94dB efficiency pushes the Q7 to unimaginable performance levels while maintaining every grain of resolution and nuance. To create such a highly efficient loudspeaker the entire complement required new motor systems backed with exceptionally powerful neodymium magnets, 10 times higher than industry norm. Dual 12-inch bass woofers and a 10-inch midbass bring Nano-Tec® cone technology into our largest Magico-designed drivers to date. Working together, they take resolution and extension through the lower octaves to a new level.
ENCLOSURE
Using Advanced Finite Elements Analysis to study 'in-box' driver behavior, the Q-Series construction techniques were redeployed in a configuration more finely tuned to the specific parameters of 'driver to enclosure' interaction. Comprised of over 100 parts of aluminum, copper, and stainless steel, all affixed with over 650 fasteners in a calculated labyrinth of internal bracing, the Q7 provides the ideal combination of mass, dampness and rigidity.  A new three-axis matrix frame, copper decoupling levels, and a 'floating' midrange cavity yield the most effective multi-faceted strategy of eliminating the cabinet as a secondary acoustic source.
CROSSOVER
Magico's elliptical crossover techniques have been employed to create the Q7 4-way filters.  Custom ultra-high precision resistors, capacitors and coils were designed to comprise the crossover network.  Magico will be demonstrating the Q7 at CES 2012 in Las Vegas.
SPECIFICATIONS
1 x 1" MB7 Tweeter
1 x 6" MG70 Midrange
1 x 10" MG107 Midbass
2 x 12" MG1207 Bass
Sensitivity: 94dB
Impedance: 4 Ohms
Frequency Response: 20 Hz – 50 kHz
Recommended Power: 50 – 1200 Watts
Dimensions: 60"H x 32"D x 15"W (152cm x 81cm x 38cm)
Weight: 750 lbs. (340 kg)
The US Retail Price of the Magico Q7 is $165,000/pr. Delivery will begin in Q2 2012.  Look for more details to come at: www.magico.net.