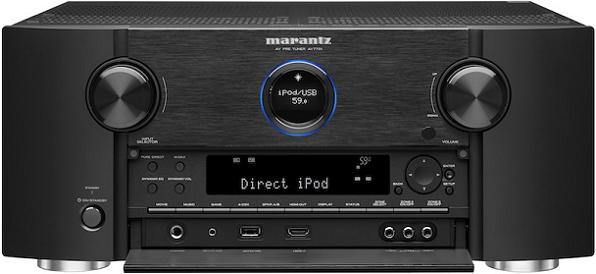 Marantz has just announced a new 7.2-channel preamplifier/processor – the AV7701. The new AV7701 features Apple's AirPlay, which lets users stream iTunes music, whether from a Mac or PC, as well as directly from their iPhone, iPad or iPod touch.. Like all Marantz premium separates, the AV7701 features a Marantz chassis design, with an aluminum front panel, the traditional Marantz star and the immediately recognizable illuminated Marantz front porthole display.
A broad range of network and streaming functions in the AV7701 allows users to listen to portable devices via Bluetooth, with the optional RX101 Bluetooth adapter, or when connected to a home network, users can enjoy thousands of internet radio stations via Pandora and SiriusXM Internet Radio services, as well as the popular Spotify music service. The AV7701 is also DLNA 1.5 certified for compatibility with multimedia PCs and other devices. A front panel USB port allows for direct connection to portable devices, and two sets of main audio outputs are provided, including 7.2 channel unbalanced (RCA) jacks as well as 7.2 channel balanced (XLR) outputs.
Designed for total "future-readiness," the AV7701 features the latest video processing technologies, and includes the ability to upconvert SD and HD content to 4K high resolution video (3840×2160) for compatibility with advanced video displays. In addition, users may control the AV7701 using the newly designed Marantz Remote App, allowing a new level of freedom and flexibility.
Connectivity options include seven HDMI inputs, along with three HDMI outputs, all compatible with 3D and 4K content. Two of the HDMI outputs let users play their favorite movies and shows on two separate HDTVs, while the third HDMI output lets viewers in another room watch a second program from another source. Both main HDMI outputs feature Audio Return Channel functionality. There are also multiple analog video inputs, including component and composite video for hooking up legacy standard definition (SD) and high definition (HD) sources, as well as a 7.1 channel audio input.
The AV7701 features the latest digital audio decoders, including Dolby TrueHD and Dolby Pro Logic IIx, along with DTS-HD Master Audio. There's also the option for configuring the system to deliver additional front height or front width channels to dramatically expand the front soundstage, and the AV7701 can also be configured for bi-amp mode for the front main (L/R) speakers. The AV7701 also features Marantz HDAM discrete pre-amplifier modules along with our exclusive current feedback design which together, provide superb sound quality.
Audyssey's MultEQ XT automatic room acoustic correction system analyzes the sound output from every speaker in the room (microphone included), and generates precision digital filters that provide optimum sound quality with virtually any combination of speaker sizes and types. Audyssey Dynamic Volume provides a high fidelity listening experience at reduced volume levels, allowing late night listening without disturbing other family members, and Audyssey Dynamic EQ delivers full range sound quality regardless of the volume control setting. Audyssey DSX processing provides the option of additional front height or front width sound channels, dramatically expanding the front soundstage. Marantz M-DAX audio processing is also included, which re-processes compressed audio sources to deliver the full dynamic range of the original musical performance.
The AV7701 is scheduled for availability in September 2012 at a MSRP of $1,899.99,  in Canada. Look for more details at: www.marantz.com.