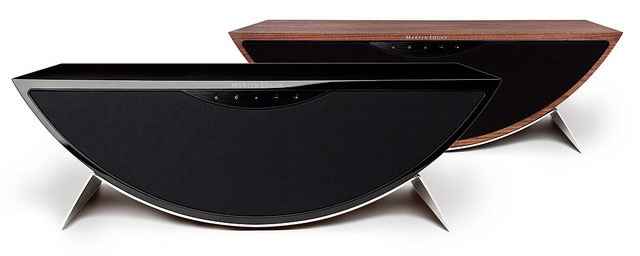 MartinLogan has just announced that it is shipping the Crescendo – their first wireless Bluetooth and AirPlay compatible speaker system.  The Crescendo incorporates dual Folded Motion tweeters and a 5″x7″ mid-bass woofer.  The objective of the new Crescendo is to provide sound with accuracy, resolution, and detail – like every other MartinLogan design.
MartinLogan's dedicated in-house design and engineering team took a "no-compromise" approach with the Crescendo.  Though the Crescendo is a table-top speaker system, it features premium construction and design elements.
At the core of the Crescendo is an advanced 24-bit 48kHz DSP (digital signal processing) based preamplifier in conjunction with a powerful class-D closed-loop 100-watt (140-watt peak) amplifier.  The Crescendo's digital amplifier is designed to deliver powerfull, yet detailed sound thourgh a MartinLogan custom designed front-firing 5″x7″ matte black polypropylene cone woofer.  The woofer has extended throw capability within a non-resonant asymmetrical chamber to ensure that low frequencies are seamlessly blended with the two MartinLogan's high-performance Folded Motion tweeters.
The signature Folded Motion tweeters utilize extremely low mass diaphragms that "squeeze" air, and require significantly less excursion than the typical 1-inch dome tweeter, minimizing distortion while providing a lightning fast response.  The increased surface area also provides a wide, yet controlled sound dispersion to create a realistic and carefully etched sound stage.
Crescendo is crafted with a solid MDF enclosure that strengthens and intensifies low-frequency bass performance while minimizing vibrations.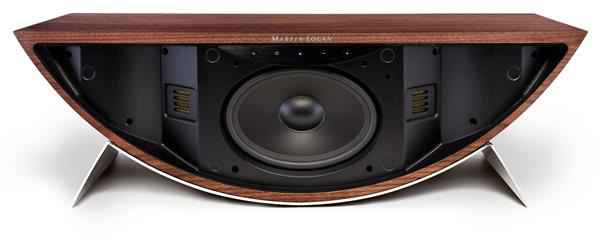 For those seeking greater bass performance, the Crescendo provides a subwoofer output via an analog RCA connection for optional hook-up of a powered subwoofer.  This option, not typical of tabletop speaker systems, customizes the crossover between the Crescendo and subwoofer to ensure integrated bass frequencies.
Designed to fit a modern décor, MartinLogan utilizes high-quality materials and finishes to give Crescendo a furniture and artwork like appearance. The dense cabinet enclosure, wrapped in either high-gloss piano black paint or real-wood walnut veneer, floats atop a sturdy aluminum stand and looks comfortably at home in any décor where aesthetics are as important as sound quality. A cleanly integrated, front mounted control panel allows quick access to power, input and volume controls.
For across the room control, Crescendo includes a custom remote control built from black anodized extruded aluminum.
The Crescendo features six input methods allow for connection of virtually any device:
Wi-Fi  – connect  AirPlay capable devices wirelessly (iPhone, iPad, iPod, or a computer with iTunes) to stream audio.
Bluetooth – connect Bluetooth capable devices wirelessly to stream audio. Bluetooth V4.0 supports SBC, MP3, AAC, and apt-X®.
Wired Ethernet – audio information can be sent over a LAN to the Crescendo using various protocols (such as AirPlay or DLNA)
USB – connect compatible Apple devices and use the Crescendo as an audio dock and charger. The USB connection was designed to rapidly charge a variety of devices.
3.5mm analog – any device that has an analog audio output can connect to the auxiliary analog input via a 3.5mm headphone style jack.
3.5mm optical digital – any device that has a digital optical output can connect to the auxiliary digital input  with the included mini-Toslink optical adapter (analog and digital connections share the same input).
The Crescendo is now shipping in high-gloss black.  Real-wood walnut veneer units are expected in early April.  MSRP is 999.95 CDN.  For more information, please visit: www.martinlogan.com.