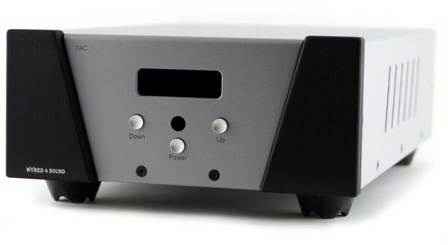 Wyred 4 Sound has announced a new upgrade path for current DAC-2 owners via a factory direct upgrade program.  Current owners simply need to send their existing DAC-2 in and Wyred 4 Sound will upgrade it at their factory to the exact DSD se configuration, at a nominal fee.  This upgrade program now includes the latest Femto clock upgrade – specifics on the changes made as part of this upgrade program are as follows: 
Custom Vishay Z-Foil resistors (0.1% tolerance and a +/-0.5ppm/°C)
Ultra-low noise discrete regulators (100+ times quieter and faster than the stock regulator)
Ultra-fast recovery Schottkey diodes
Premium grade inductors
Femto Grade Clock
Rhodium plated Furutech fuse
Green OLED display for input, sample rate, volume control, and configuration viewing
DSD 64 and DSD 128 compatibility via USB
Max USB resolution increased to 32 bit 384kHz
Driverless for Mac and Linux
Integer mode compatible
Galvanic isolation
Typical upgrade time is 2-3 business days once the unit is received at Wyred 4 Sound's facility.  The cost for the upgrade is: $1,299.00 U.S. or about half the price of purchasing a new DAC-2 DSD se (MSRP: $2,549.00 U.S.).  Look for more information or to order the upgrade, at: 
http://www.wyred4sound.com/
.