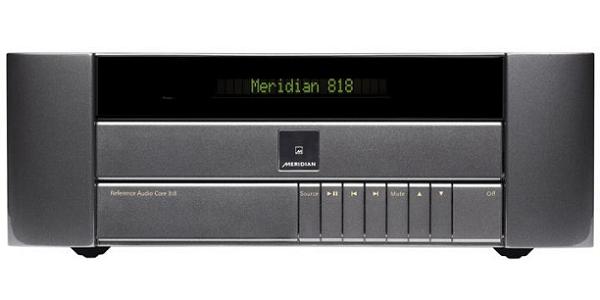 Meridian's research team has been able to achieve a number of performance upgrades. Products such as the 808 Signature Reference Compact Disc Player, 818 Reference Audio Core and 861 Reference Digital Surround Controller have been upgraded, resulting in the release of 808v5, 818v2 and 861v8. The DSP7200 Digital Active Loudspeaker has also had a performance upgrade.
Meridian is also able to extend an upgrade path to existing owners of their 808.3, 818 or 861v6 products. The upgrades are said to deliver smoother and cleaner performance for both new and existing products.
The DSP7200 Meridian Digital Active Loudspeaker was introduced in 2007. Using improved technology and components including a new tweeter design, it is claimed to provide even purer audio performance and with new DSP developments, additional features have been added. These new features include new music modes and, in the Horizontal Centre version, Centre Elevation, a new psychoacoustically-based feature to allow the adjustment of image height in home theatre applications.
Meridian's 808 CD player, in its Version 5 includes improved technology and components that enhance audio quality in a number of areas. There is also a plate commemorating 30 years of the format along with the signatures of Meridian's co-founders.
The 861 Digital Surround Controller, 861v8 now includes improved technology in a number of areas and the addition of brand new features such as the ability to manage centre-channel height imaging in conjunction with the new DSP7200HC loudspeaker.
818 V2 Reference Audio Core combines the multiple input capabilities of a high-performance pre-amplifier – including a Meridian Digital Media System audio end-point – with a full suite of Meridian's proprietary resolution enhancement technologies. It connects directly to Meridian DSP Loudspeakers via SpeakerLink.
Existing owners of Meridian 808.3, 861v6, 818 and DSP7200 will be able to upgrade their products to the new specifications. To do this will require both hardware and software upgrades.
Though pricing has not been release – more details can be found at: www.meridian-audio.com.