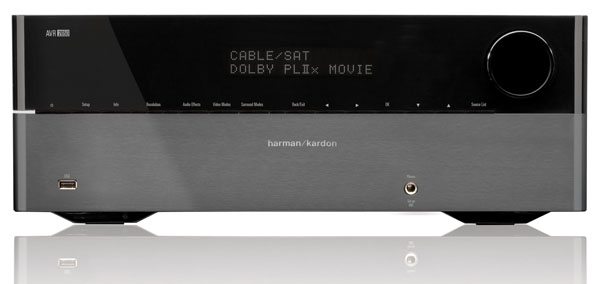 Erikson Consumer, the Canadian distributor for Harman Kardon has just announced a new AV receiver line which features HDMI v.1.4a connectivity and 3D compatibility.  The four new models include the AVR 1565, AVR 1650, AVR 2650 and AVR 3650 and feature Harman Kardon's proprietary Logic 7 sound processing, providing rich and powerful 360-degree sound.
The AVR 1565 and AVR 1650 are the perfect companion for film, TV and music lovers who are looking for a budget-friendly, yet feature-rich, AVR option. Audiophiles will rejoice as these receivers power 5.1-channel surround systems and feature the latest Dolby True HD and DTS-HD Master Audio decoding technologies. A great starting AVR, the 1565 packs a lot of punch with 70 watts per channel, an FM/AM tuner, extensive audio/video connectivity, and three HDMI inputs. The AVR 1650 provides 95 watts of power per channel and also includes an FM stereo, The Bridge IIIP connectivity, additional HDMI input, and EzSet/EQ technology, giving movie and music buffs additional flexibility in configuring their ideal home theater setup.
For those looking to take their entertainment to the next level, the AVR 2650 and AVR 3650 can power 7.1-channel surround-sound systems and are packed with the latest and greatest next-generation technology. Both AVRs include network connectivity for Internet radio or music file streaming from a home network and are SIRIUS Satellite Radio-ready. Additional benefits include Dolby Volume – a home theater volume control, which maintains the same volume level across channels, sources, and content – and multizone functionality for audio playback in multiple rooms. The AVR 3650 goes one step further, providing 110 watts of power per channel and six HDMI inputs – versus 90 watts of power per channel and five HDMI inputs with the AVR 2650 – accommodating every entertainment whim with grace, style, and ease.
Pricing and Availability
Harman Kardon AVR 1565 5.1, 70-watt audio/video receiver Price: $499
Powers a 5.1-channel surround system featuring a sleek, stylish design
Latest Dolby True HD and DTS-HD Master Audio decoding audio modes
Maximizes 3-D and Blu-ray Disc viewing with HDMI v.1.4a with 3-D and Deep Color
Harman Kardon Logic 7 technology, providing exhilarating 5.1-channel, 360-degree sound
Color-coded binding-post connectors and a multidevice programmable remote
Three HDMI inputs and extensive video and audio connectivity
FM stereo/FM/AM tuner
Harman Kardon AVR 1650 5.1, 95-watt audio/video receiver Price: $599
Powers a 5.1-channel surround system featuring a sleek, stylish design
iPhone/iPod playback-ready with The Bridge IIIP connectivity
Surround-sound decoding with the latest Dolby True HD and DTS-HD Master Audio decoding audio modes
Maximizes 3-D and Blu-ray Disc viewing with HDMI v.1.4a with 3-D and Deep Color and Audio Return Channel
Harman Kardon Logic 7 technology, providing exhilarating 5.1-channel, 360-degree sound
Easy setup with EZ-Set/EQ technology, color-coded binding-post connectors and a multidevice programmable remote
Four HDMI inputs and extensive video and audio connectivity
Harman Kardon AVR 2650 7.1, 95-watt audio/video receiver Price: $899
Powers a 7.1-channel surround system and a Zone 2 speaker system for multiroom audio
iPhone/iPod playback-ready with The Bridge IIIP connectivity
Features network connectivity to access a world of music and entertainment via the Web or home network
SIRIUS Satellite Radio-ready
Features the latest Dolby Volume control, Dolby True HD and DTS-HD Master Audio decoding audio modes
Maximizes 3-D and Blu-ray Disc viewing with HDMI v.1.4a with 3-D and Deep Color and Audio Return Channel
Harman Kardon Logic 7 technology, providing exhilarating 7.1-channel, 360-degree sound
Easy setup with EZ-Set/EQ technology, color-coded binding-post connectors and a multidevice programmable remote
Five HDMI inputs and extensive video and audio connectivity
Harman Kardon AVR 3650 7.1, 110-watt audio/video receiver Price: $1,199
Powers a 7.1-channel surround system and features multiroom audio functionality
iPhone/iPod playback-ready with The Bridge IIIP connectivity
Features network connectivity to access a world of music and entertainment via the Web or home network
SIRIUS Satellite Radio-ready
Features the latest Dolby Volume control, Dolby True HD and DTS-HD Master Audio decoding audio modes
Maximizes 3-D and Blu-ray Disc viewing with HDMI v.1.4a with 3-D and Deep Color and Audio Return Channel
Harman Kardon Logic 7 technology, providing exhilarating 7.1-channel, 360-degree sound
Easy setup with EZ-Set/EQ technology, color-coded binding-post connectors and a multidevice programmable remote
Six HDMI inputs, including one in the front panel, and extensive video and audio connectivity
For more info please visit www.harmankardon.com