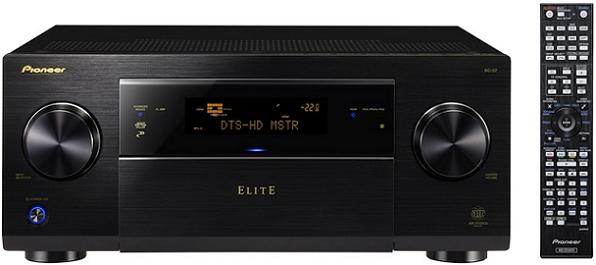 Pioneer Electronics has just announced its new flagship Elite receivers, the SC-57 and SC-55. These two new models incorporate Pioneer's new Class D3 digital amplifier technology, which provide higher output with less power consumption than traditional amplifiers. Pioneer states that the new Class D3 amplifier is their highest-ever simultaneous to all channel continuous power delivery amplifier (140 watts RMS / channel), with extremely high efficiency and ultra-low distortion. The SC-57 and SC-55 includes network features such as Apple's AirPlay, DLNA Certified (1.5) networking, Internet radio and Pioneer's proprietary iPad, iPhone, iPod apps including iControlAV2 and Air Jam.
The Class D3 amplifier of the SC receivers is designed to deliver extremely fast response, detailed midrange frequencies, and high dynamic range with all channels driven. Pioneer's Class D3 amplifier includes:
• Power Efficiency – much less energy to produce more continuous power output per channel. The design of the amplifier assures high dynamic range from any source, lower impedance capability, and exceptional high fidelity sound, even in multi-zone mode.
• Improved Thermal Dissipation – Redesigned from previous generations, the large aluminum heatsink is top mounted to achieve 360 degrees of heat dissipation.
• Direct-Thru Signal Path – The amplifier section was reconfigured to achieve a much shorter audio signal path. A third shorter than last year's design, audio signals are directed one-way from the audio input side to the power supply, eliminating any looping through the circuit board or the need for a loop circuit which can cause feedback, noise, and ringing, especially in the high frequency audio band.
• THD Improvement – The Direct-Thru Signal Path design combined with a less circuitry design resulted in improved switching characteristics. The amplifier produces very low noise with a total harmonic distortion (THD) rating of .003 percent (at 100W).
• Pre-Amp Mode – The SC receivers feature advanced preamp processors supporting the latest surround formats such as DTS NeoX, sound enhancements, network content and network control. Users can take advantage of its full multi-zone capabilities assigning the preamp and speakers outputs independently. When channels are set to the off position, the power supply and associated components are shut down for efficiency and to reduce heat production.
• Certifications – The SC-57 and SC-55 are both certified by THX and AIR Studios to ensure that the receivers deliver the highest fidelity home entertainment experience to the consumer. THX and AIR Studios are experts in reference sound technology and have strict standards in their certification processes.
Custom Benefits
Both SC receivers enable users to configure their home theater in multiple customized configurations. The 9.1-channel SC-57 provides 10 different configurations while the 7.1-channel SC-55 offers up to seven. Users can create a full 5.1 system and use the remaining channels for additional zones, all controllable directly from the receivers. Plus, both models are certified by the most popular control companies including Control4, Crestron and Savant, enabling users to tailor their home theater system to fit their needs.
The Power of Connectivity
The Elite SC-57 and SC-55 offer a multitude of network connectivity options. Each model enables users to select from a wide range of content from a variety of sources, as well as conveniently set up and control their home theater systems using powerful new tools. These include:
• AirPlay – Enthusiasts have complete access, control and playback of their entire iTunes music libraries wirelessly through their home theater system3. Users can quickly and easily enjoy all their music with song information and album art simultaneously displayed on a connected monitor/TV. AirPlay requires iTunes 10.1 or later and iPad, iPad 2, iPhone 3GS, iPhone 4 or iPod touch (2nd, 3rd, or 4th generation) with iOS 4.2 or later.
• Air Jam – Encouraging social connectivity via entertainment devices, Pioneer's free Air Jam App is available from the Apple App Store. Compatible with both SC models, the app allows pairing of up to four devices via Bluetooth (optional AS-BT200 Bluetooth adapter required). Once linked, each individual can cue songs from their own music library to create a shared playlist to play back on the AV Receivers. Each connected device also displays the list of songs added by all the users and which device a song is playing from. The Air Jam App conveniently stores the lists of songs created for each session for future purchases at the iTunes Store.
• DLNA Certified (1.5) – The new SC receivers are also DLNA Certified (1.5), allowing music content to be streamed from a PC to the receiver via the consumers' home network. Through Ethernet or the optional AS-WL300 wireless LAN converter (sold separately), each receiver can access and play high resolution music (up to 192kHz/24-Bit). Audio can also be streamed and controlled through the receivers using a device that supports UPnP / DLNA media servers and renderers, enabling an entirely new way for consumers to share and play their music collection.
• Bluetooth Audio Streaming – With the optional Bluetooth adapter, the entire lineup of receivers features wireless Bluetooth transfer of audio content from any A2DP Bluetooth wireless enabled mobile device or personal computer. Pioneer's AS-BT200 ($99) Bluetooth adapter allows listeners to keep their compatible phone close to them while they play music from it through their home theater system. And, with Pioneer's exclusive Sound Retriever AIR technology specifically designed to enhance Bluetooth audio transmissions, music playback delivered through Bluetooth approaches CD sound quality.
• Internet Radio (vTuner) – Both models also bring thousands of high quality Internet radio stations into the living room with vTuner for endless music entertainment. The feature is further enhanced with the addition of other Internet radio based music services such as PANDORA, Rhapsody and SiriusXM Internet Radio.
Portable Device Control
Portable devices such as smartphones and tablets, including iPad, iPhone and iPod touch are becoming exciting and ever-expanding components of home entertainment systems. The Elite SC receivers are designed to utilize the wealth of content from these devices as well as provide a larger emotional experience of high definition multi-channel home theater from sources such as Blu-ray.
• Each receiver in the lineup is "Made for iPad, iPhone and iPod" and comes with a USB/video cable to provide an "out of the box plug-and-play" convenience. Consumers can enjoy audio, video and photos stored on their Apple mobile device without having to buy an optional dock, as well as charge it while plugged into the receivers.
• iControlAV2 – Pioneer's iControlAV2 App enables an iPad, iPhone or iPod touch to control the SC series receivers. Available free from the App Store for the iPad, iPhone and iPod touch or www.apple.com/itunes/, the iControlAV2 App controls volume, bass, balance and room settings as well as the ability for the user to choose Internet radio stations and music files from network-attached storage (NAS) on a home network. For iPad users, the iControlAV2 integrates all four app controls into an intuitive single screen. The app also includes control for Pioneer Blu-ray Disc players. Additional features include sound adjustments that enable users to create their own equalizer settings by simply drawing their desired equalizer curve on the screen, and for iPad users, detailed graphic representations of before and after Pioneer's MCACC room calibration feature.
Enhanced Television Performance
The new Elite SC series receivers utilize proprietary enhancing technologies to maximize the user's television performance with video conversion and scaling, image enhancement, and video adjustment for detail, sharpness, brightness, contrast, chroma level and black level for individual video sources. To enhance the video performance from any connected source, both receivers convert all analog signals to HDMI and scale both analog and digital signals to 1080p resolution for a significantly improved visual experience. Additional technologies include Marvell Qdeo processing, Advanced Video Adjust and Stream Smoother to enhance the picture quality of any source.
• Marvell Qdeo video processors – The Elite SC receivers offer high quality video processing for maximum performance and flexibility powered by Marvell's award-winning Qdeo technology. Marvell Qdeo offers a truly immersive viewing experience by capturing, processing and rendering a wider variety of video signals ranging from high definition Blu-ray Disc to portable video sources such as smartphones.
• Advanced Video Adjust – Pioneer's new Advanced Video Adjust technology automatically optimizes video signals by the type of display (selected manually) connected to the receivers, such as plasma, LCD and front projector. For example, the receivers can reproduce a detailed and virtually noiseless image on plasma panels, enhance the black level of LCD displays, and produce sharper, more vivid image matching for front projectors. The receivers can further adjust and enhance images based on the user's viewing distance from their display by utilizing the distance information established during MCACC (Multi-Channel Acoustic Calibration System) calibration to determine how much adjustment is necessary.
• Stream Smoother – Pioneer enhances compressed video files with its proprietary technology Stream Smoother. The feature automatically enhances images coming from the Internet via other devices such as Blu-ray Disc players by reducing compression noise and establishing more detailed, finer images. The technology is especially helpful with low bit-rate video sources originally intended for viewing on small screens.
• Wiring Navi – Pioneer is making the installation process for each receiver simpler by providing consumers an interactive guide application called Wiring Navi with the use of a Windows-based PC.
• Interactive Manual – Once the receiver is connected using the Wiring Navi application, the Interactive Manual application provides a linked two-way interactive manual that gives users a way to dynamically learn about all of the new features of each AV receiver.
The new Elite SC-57 and SC-55 receivers are now available at authorized Pioneer Elite retailers at the following MSRP: SC-57 is $2100 U.S. and SC-55 $1700 U.S.
Look for more details at: www.pioneerelectronics.com