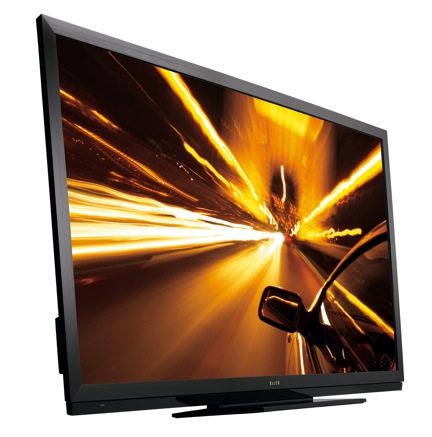 You've probably read the online rumors that Sharp will be resurrecting the infamous Elite brand made by Pioneer.  And now we finally have some details.  Only thing is… the new sets will all be LCD, not plasma based like the original Pioneer Elites.
Nevertheless, the new Elite LED LCD TVs promise to provide the highest caliber picture quality and technology available (in LCD TVs).
The new Elite LED LCD TVs will be available in 60" class (60 1/32" diagonal), and 70" class (69 1/2" diagonal) screen sizes in late August, and promise to feature the most innovative video technologies available on the market.
Elite LED LCD TVs are designed to provide a superior picture quality to other LCD TVs currently on the market.  A unique combination of features and technology developed specifically for Elite televisions deliver deep black levels, depth of colour, high brightness and smooth images to achieve an astonishing picture.
Elite LCD televisions incorporate proprietary RGB+Y technology, which adds a yellow sub-pixel to the standard red/green/blue color palette. The addition of the yellow sub-pixel enables the reproduction of a much broader range of colors.  RGB+Y technology creates higher brightness using less power and more accurately depicts vivid yellows and vibrant golds. RGB+Y technology makes possible Precision Color Plus, four sub-pixels composed of smaller dots, creating more than 8 million dots per screen for a much smoother, more appealing detailed image.
Elite Televisions feature:
FluidMotion, which combines an advanced frame creation system with Elite's unique scanning backlight technology creating a greater than 240 Hz effect, improves picture clarity and smoothness;
Full Array LED, which includes a full array of Light Emitting Diodes, evenly dispersed behind a diffuser resulting in more uniform and brighter lighting versus traditional edge-lit LEDs;
Local Dimming which allows specific groups of LEDs to be dimmed for greater control of brightness and darkness in different areas of the screen for outstanding black levels
But what makes Elite televisions Elite is Intelligent Variable Contrast. Developed specifically for Elite Televisions, Intelligent Variable Contrast technology works with all of the other Elite technologies to automatically control brightness and backlight to create depth of color, brilliance, detail and dark areas. The result is a television beyond compare that sets new standards in picture quality.
Additional features complete the state-of-the art engineering and design:
Elegant form factor, with fine, brushed aluminum finish, precision cut mitered bezel and slim cabinet depth round out the television's premium design
Connectivity to Netflix, VUDU, CinemaNow, YouTube, and others;
3-D Functionality including two sets of active shutter 3-D glasses;
Elite Advantage LiveSM, which offers an unprecedented level of support via Internet connectivity where a personal advisor can remotely connect to the TV and provide a variety of services such as setup, picture adjustment, or basic calibration.
THX Certified display – reserved for TVs with best in class picture quality, THX Certified displays deliver movie experiences with the same stunning color and detail found in the filmmaker's studio.
ISF (Imaging Science Foundation) certification
Variety of AV modes including Elite Pure Mode, a mode that replicates the settings of previous Elite TVs
Skype ready (Skype camera kit sold separately)
Elite LCD HDTVs will be available through the Elite dealer network in Canada.  The Elite LED LCD TV 60" class (60 1/32" diagonal) carries an MSRP of $5,999.99, and the Elite LED LCD TV 70" class (69 1/2" diagonal) carries an MSRP of $8,999.99.
For more information please visit www.EliteLCDTV.ca.