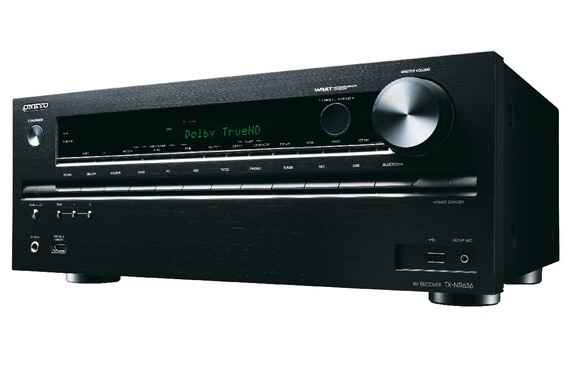 Onkyo has just announced two new A/V receiver models – the 5.2-channel TX-NR535 and 7.2 channel TX-NR636.  Both new receivers are 4K/60Hz capable via HDMI and incorporate Wi-Fi and Bluetooth.  They also have universal support for hi-res network audio.  The TX-NR636 has HDCP 2.2 compatibility to support the latest DRM copy production standard.
4K/60Hz capability paves the way for Ultra HD video playback at 60 frames per second to meet PC gamer needs and future home theatre upgrades.
The TX-NR636 is also the first A/V receiver to support HDCP 2.2, the latest DRM copy-protection standard for 4K. This content will be unplayable or down-converted to standard definition when passed through non-HDCP 2.2-compliant A/V receivers.
The TX-NR535 and TX-NR636 are both based on custom high-current architecture that ensure dynamic and instantaneous response.  A massive customized transformer, extra-large capacitors, and discrete low-distortion amplifiers are used, while the TX-NR636 incorporates Onkyo's proprietary Three-Stage Inverted Darlington Circuitry on the front and center channels. 
Onkyo provides a free Remote App 2 for iOs and Android devices that locates and streams network available hi-res tracks via DLNA.  The TX-NR535 and TX-NR636 both are capable of playing almost any high-resolution format including 5.6 MHz DSD, Dolby TrueHD, 192 kHz/24-bit FLAC and WAV, as well as ALAC to 96 kHz and 24-bit depth.
Users can browse and stream millions of available tracks on Spotify, Internet Radio, Deezer, AUPEO! and TuneIn from within Onkyo's Remote App 2. Support for Spotify Connect will be added later this year via firmware update. This feature will enable subscribers to stream Spotify's massive library of music to the receiver directly from the Spotify app via Wi-Fi.
Bluetooth is included with an included adapter for convenient wireless listening and sound quality of compressed audio is improved through Onkyo's Advanced Music Optimizer DSP.
On the TX-NR636, audio processing power has been upgraded from one to two 32-bit DSP engines for smooth and easy decoding of high-resolution formats such as Dolby True HD, DTS-HD Master Audio and 5.6 MHz DSD.
Onkyo's proprietary AccuEQ calibration system is included on both receivers to optimize the surround sound for any specific room. On-screen menus are overlaid via HDMI and adjustments can be made without interruption to the program. All major control functions are also available via the remote streaming app, including cold power-up from Hybrid Standby.
The TX-NR636 boasts six rear HDMI inputs, one front HDMI input supporting MHL, and two HDMI outputs.  It has an MM phono stage for turntable connection, and dedicated Powered Zone 2 terminals for multi-room audio.  Users can also assign the surround back channels to bi-amp their front speakers. The receiver includes Dolby Pro Logic IIz 7.1-channel upmixing, and converts low-resolution video (from legacy consoles or DVDs, for example) to 1080p/4K using industry-leading Qdeo upscaling technology.
The TX-NR535, meanwhile, has six rear 4K/60 Hz-capable HDMI inputs and one output, and can pass 4K/60 Hz content through to a compatible display. Both feature a USB input supporting most lossless audio formats stored on flash memory devices.
The Onkyo TX-NR535 will be available in March 2014 for $499 U.S., while the Onkyo TX-NR636 will be available in April 2014 for $699.  Look for more information at: http://www.onkyo.com/.