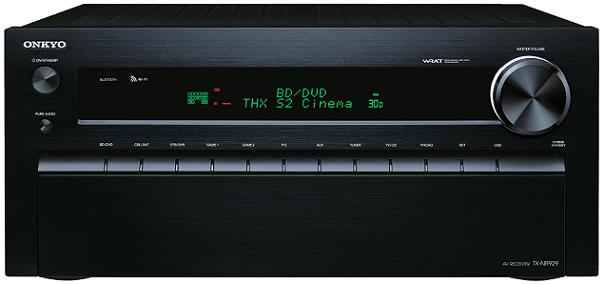 Onkyo just announced two new network A/V receivers – the 9.2-channel TX-NR929 Network A/V Receiver and the TX-NR828 Network A/V Receiver.
The launch of these two THX receivers and the recently unveiled TX-NR727 Network A/V THX receiver marks Onkyo's 20th anniversary of partnership with THX Ltd. THX certification is an assurance of the highest quality and performance.  THX Certified Onkyo A/V receivers guarantee THX Reference Level volume and audio quality similar to that of commercial cinemas and professional mix rooms.
Some of the key features on these two new receivers are as follows:
– Built-in Wi-Fi and Bluetooth technology
– Passthrough of 4K Ultra HD content via HDMI?, and upscaling of lower-resolution video to 4K with Qdeo processing technology from Marvell
– Audyssey's premium MultEQ XT32 room acoustic equalization on the TX-NR929, and Audyssey MultEQ on the TX-NR828
– Upmixing solutions comprising DTS Neo:X (TX-NR929 only), Audyssey DSX, and Dolby Pro Logic IIz
– Nine HDMI inputs and two outputs (TX-NR929); and eight HDMI in and two out (TX-NR828)
The TX-NR929 Network A/V Receiver has 11.2 multichannel pre-outs and DTS Neo:X upmixing for surround-sound playback through up to 11 channels. User's can assign four of the nine available channels to drive audio in Zone 2 and Zone 3 simultaneously. 
To optimize two-channel performance, the TX-NR929 incorporates three 192kHz/24-bit TI Burr-Brown DACs (with one stereo DAC per front channel in Differential DAC Mode). Onkyo's WRAT (Wide Range Amp Technology) and discrete Three-Stage Inverted Darlington Circuitry are incorporated to produce a musical sound even at high volumes.
This receiver also has an in-board proprietary Digital Processing Crossover Network. Digital Signal Processing splits the audio signal very precisely into separate high- and low-frequency signals to deliver separate outputs to speaker drivers and offers potential to eliminate frequency overlap and provide a more transparent stereo image.
The TX-NR828 Network A/V Receiver is set to deliver similarly high power output but through 7.2 channels. This receiver incorporates: 4K passthrough and upscaling, Bluetooth and Wi-Fi technology, THX certification, Audyssey DSX upmixing and Audyssey MultEQ room acoustic equalization. Analog and digital connections abound, including 7.2 multichannel pre-outs and a phono stage.  Powered Zone 2 outputs along with Zone 2/3 line-outs provide for greater flexibility.
The TX-NR828 and TX-NR929 network receivers have a MSRP of $1,099 U.S. and $1,399 U.S. respectively. The TX-NR828 will be available in June but you'll need to wait until July to get your hands on a TX-NR929.  Look for more details at: www.onkyo.ca.