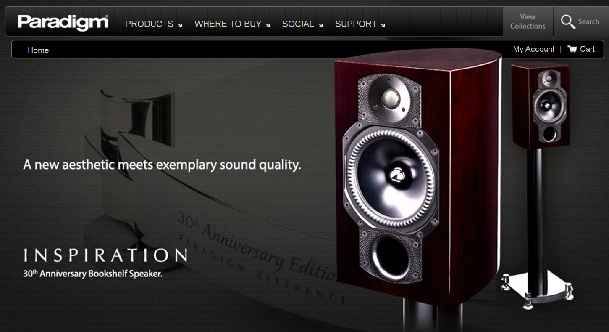 Paradigm Electronics Inc., has just updated their consumer website – making some dramatic changes to make navigation more intuitive and easy, incorporate high resolution photography and improve the overall look and feel. 
Product retail pricing (North America only) is now provided, making it easier for consumers to find the right combination of products to fit their budget.  With high resolution images available via a "gallary" tab, consumers can closely inspect products to determine if they meet their aesthetic needs. 
Product collections are now more distinct and better organized with easy to find headers, as follows:
 • Signature Collection: As good as it gets! Paradigm's flagship collection delivers the ultimate in music and home theater performance with stunning aesthetics.
 • Reference Collection: Step-up performance. Reference quality sound and style, advanced components and an exceptional performance-to-value relationship.
 • Classic Collection: Our affordable audiophile lineup. High-performance products for music and home theater that represent truly exceptional value.
 • SHIFT Collection: Legendary Paradigm sound, anywhere. Easy-to-use products with emphasis on portable, wireless and fully-powered speaker solutions.
The dealer locator has been revamped, making it easy to find where to buy any Paradigm product.
Customers that want to keep track of their purchases can now use a simple online product registration tool, and in the coming months will be able to review their product experience on Paradigm.com for other customers to see. A new Social tab is located in the top navigation, allowing vistors easy access to Paradigm's active Facebook, Twitter, Blogger, Flickr and YouTube pages.
A Support tab with links to many resources including: information about the company, technology, warranty, career opportunities, high-resolution images, manuals, literature and contact information.  
For more information visit: www.paradigm.com.