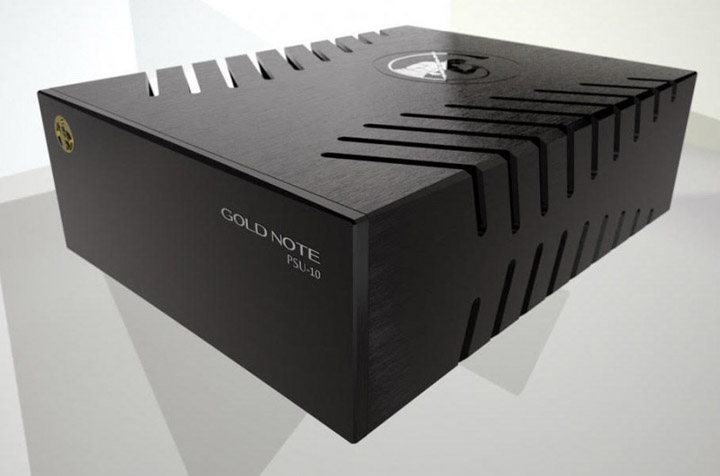 Gold Note's PH-10 Phono Preamplifier is one of the most innovative and best-reviewed phono stages available for turntables today, from any brand.  You can read more about it in THIS POST (we've also got one an order for review).  And now, the PH-10 is about to receive a major performance boost thanks to an outboard power supply designed to work specifically with it.
The Gold Note PSU-10 is a super inductive & chokes hybrid power supply. It features an inductive filter on the analogue stages and dual choke design powered by a double inductor driving the negative and positive high current stages.  The PSU-10 features 4 transformers: 3 of which work as a pure power supply and 1 separate transformer exclusively dedicated to the inductive filter and the two chokes.
The Gold Note proprietary Dual Chokes design perfectly filters the signal voltages eliminating all the possible interferences of the AC power system.  The PSU-10, together with its massive power supply, enables the PH-10 phono stage to be electro-magnetic shielded and insulated from the AC power system.  The large, ultra clean power enhances super low noise, greater dynamics, better resolution and details – guaranteeing a more realistic high-end audio performance.
Main Specifications
Four rail audio grade power supply
Four ultra low noise voltage regulator
+12V, +5V for logic
+/- 14V for analog with inductive noise remover
Line regulation for all output 0,05 %/V
Load regulation for all output 0,05 %Vu
Line noise rejection >80dB
Common mode noise rejection >80dB
Full power response time <2,5uSec Power Main supply 100/120 & 220/240V automatic selection; 50 or 60 Hz Nominal power: 25W Dynamic power: >50W
Stand by power: <1W
For more info, please visit www.tricellenterprises.com