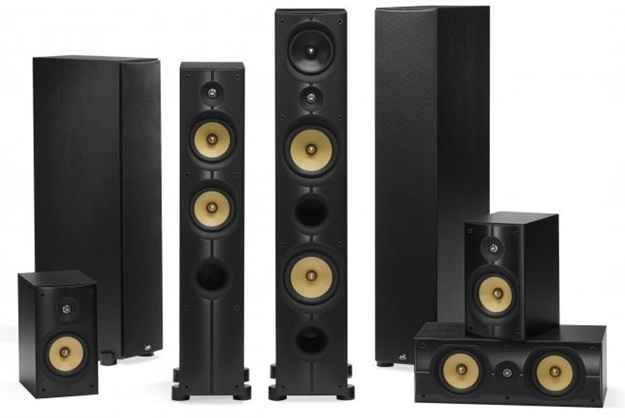 PSB has just released their new Imagine X loudspeaker models, which include two tower speakers (Imagine X2T and Imagine X1T), one bookshelf speaker (Imagine XB) and one center channel (Imagine XC).  These new models are timbre matched to allow them to seamlessly work together in mulit-channel and home theatre applications.  
Imagine X2T:  A floor-standing tower with narror form that incorporates design innovations from the PSB Imagine T2.  The Imagine X2T is a three-way, dual-chamber, dual front-ported design with a one-inch titanium dome tweeter, two 6.5-inch woofers, and an innovative discrete 5.25-inch self-contained midrange driver – which is a unique innovation, within the Imagine Series.  The new injection-molded poly-filled carbon fiber midrange driver has a novel shape with filleted surround to optimize the reproduction of voices.  The woofers each sit in their own chamber, individually ported, to eliminate standing waves inside the X2T's tall, slim speaker cabinet. 
Imagine X1T:  The Imagine X1T has wide bandwidth and high SPL output capabilities, despite its modest size.  A dual-woofer transitional two-and-a-half way design, it features identical 5.25-inch woofers and a one-inch titanium dome tweeter. Like all Imagine Series woofers, the X1T's cone materials have been specially developed for optimal control, allowing for a simpler more cost effective crossover design.
Imagine XB:  An attractive, compact design with a single 5.25-inch woofer and one-inch titanium tweeter can be easily placed in most spaces. It is ideal for multi-channel, 2.1 subwoofer/satellite systems, or main-channel use in smaller rooms.  The Imagine XB shares the injection-molded, clay/ceramic-filled polypropylene designs of the Imagine X towers and includes dual magnets, rubber surrounds and a rear-facing port.
Imagine XC:  A two-way system in a dual-woofer horizontal format with a pair of 5.25-inch woofers and one-inch titanium dome tweeter, this center channel is engineered to maximize performance in multichannel systems. Its clean lines complement today's ultra flat TVs while its compact footprint allows it to be nestled below.
Overall Features of the Imagine X Line-Up:
Custom-designed drivers for each model utilizing technology from PSB flagships
Tweeters are Titanium dome with Ferrofluid and Neodymium magnet structure
Woofers are Clay/Ceramic reinforced injection molded polypropylene cones
All models feature gold-plated, five-way, binding posts; X2T, X1T, XB models are bi-wireable/biampable
Designed sonically to integrate with other Imagine Series speakers
Slim profile, compact footprint is stylish and designed to work most everywhere
Final voicing performed by Paul Barton at Canada's famed NRC
Offered exclusively in simulated Black Ash finish
The PSB Imagine X speakers are currently available, in simulated Black Ash finish at the following MSRP: Imagine X2T ($649/each); Imagine X1T ($449/each); Imagine XB ($499/pr); Imagine XC ($399 each).  Look for more information to become available at: www.psbspeakers.com.
Comments are closed.