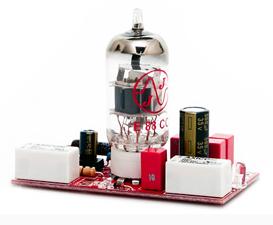 Red Wine Audio has just announced their new Signature 15 LFP-V Edition integrated amplifier. The new integrated amplifier will combine Red Wine's class A battery-powered tube input stage with a brand-new discrete class AB battery-powered output stage, 3 analog inputs, one volume controlled set of RCA output jacks (fed from the tube stage), their proprietary LFP-V SMART board charging circuit and a remote volume control. Power output will be 15wpc RMS into 8 ohms or 30wpc into 4 ohms.
Compared to the Red Wine Audio Signature 30 that was introduced back in 2006, the new Signature 15 LFP-V Edition will provide much more for nearly the same price, according to Red Wine Audio.
Pictures of the final product are currently unavailable but it is expected that it will be the same size as the Signature 30.2, with a different rear panel. The front panel will be similar to the Isabella preamp – with input select switch on the front.
The new Signature 15 LFP-V Edition can be pre-ordered now and is expected to be fully released in late September. MSRP is $1500 U.S.
Look for more details at: www.redwineaudio.com.