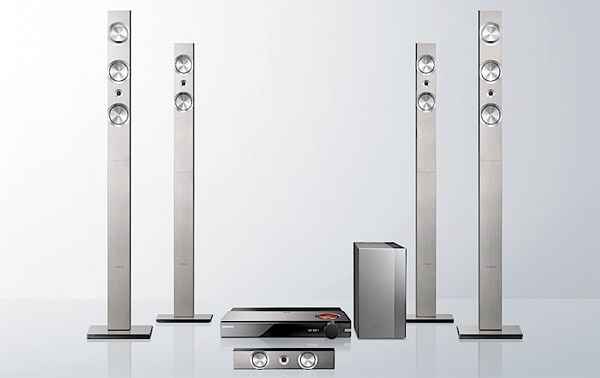 Samsung Electronics is launching an extensive number of new products at the CES 2013 which begins today.  Among these are lots of home audio/video products.  The company's 2013 AV products feature a number of wireless connectivity enhancements, including the industry's first soundbar that can connect with a TV using wireless Bluetooth technology.  Some of the new products being launched include:
• Vacuum Tube Soundbar (model HW-F750) is the first soundbar to feature a built-in vacuum tube to maximize sound quality, and is the world's first soundbar that can wirelessly connect with a TV via Bluetooth.
• Portable Wireless Bluetooth Speaker (model DA-F60) brings advanced sound quality with an apt-X codec, while offering the simplicity of Near-Field Communications (NFC) connectivity.
• 7.1 Channel Home Theater System (model HT-F9750W) was created to be the perfect counterpart for Samsung's 2013 TVs, with a Gallium Nitride (GaN) amplifier that delivers pure sound, and design and usability features that bring home a totally seamless experience.
• Blu-ray Player (model BD-F7500) features advanced upscaling capabilities, allowing users to experience ordinary SD and HD content in superior resolution
Read on for further details about each of these new products.
Vacuum Tube Soundbar HW-F750
Samsung's Vacuum Tub Soundbar (model HW-F750) resolves desire for pure power and warm, natural sound by integrating a vacuum tube amplifier into a soundbar for the first time.   Additionally, the HW-750 offers the ultimate in convenience with its SoundShare function, which enables users to wirelessly connect the soundbar to a TV via Bluetooth. Meanwhile, the product's gyroscope sensor gauges height, rotation and slope to optimize sound quality, whether the soundbar is placed in a horizontal or vertical position. Combined, these features virtually eliminate restrictions on where consumers can place the HW-750 in their homes.  Adding to the product's ease of use, users can activate the new AirtrackON function, which automatically powers on the soundbar when the TV is turned on, and allows users to control the HW-F750 with a TV remote control. The HW-F750 sports a slim design and separate, wireless subwoofer, making it an ideal companion for the premium design of any Samsung Smart TV. With its stylish, metal design, the product combines the best that vintage and modern technologies have to offer.
Portable Wireless Bluetooth Speaker DA-F60
Samsung's Portable Wireless Bluetooth Speaker DA-F60 offers sound quality and simplicity, both at home or on the go. The speaker's integrated Near-Field Communications (NFC) connectivity makes it easy for users to pair the speaker with other NFC devices, such as a smartphone or tablet, by simply tapping the two devices together. Additionally, support for Samsung's SoundShare feature means users can employ the DA-F60 as a TV speaker using wireless Bluetooth connectivity.  The DA-F60 incorporates neodymium magnets and a passive radiator to produce results typically found in high-end Hi-Fi audio systems, including tuned low-frequency reproduction and virtually no distortion even at high volumes. Users will also enjoy improved performance and a high-quality experience with the built in apt-X codec technology, which boosts the Bluetooth speaker's extensive dynamic range, particularly at the top end.
Weighing only three pounds, the Samsung DA-F60 is an ideal audio companion that combines both fidelity and portability to reproduce full-range audio outside the home.
7.1 Channel Home Theater System HT-F9750W
Samsung's 7.1 Channel Home Theater System HT-F9750W was created to be the perfect counterpart for a Samsung 2013 TV, with design and usability that bring home a totally seamless experience. The new TV Sound On feature allows users to instantly activate the system's 1,330-watt sound while muting the internal TV speaker with a single click of the remote control. This flagship HTS incorporates Samsung's proprietary vacuum tube and digital amplifier, as well as the latest in Smart TV features to create the best entertainment experience available.
For a larger-than-life experience comparable to that of a movie theater, the HT-F9750W offers the multi-dimensional sound of a swivel speaker, coupled with a new DTS Neo fusion codec – exclusive to Samsung – that further enhances vertical sound to deliver unprecedented sound quality to the home. A Gallium Nitride (GaN) amplifier can handle a sound range beyond the typical audible frequency range. Paired with a vacuum tube pre-amplifier, consumers will enjoy true, natural sound with minimal distortion. A Ceramic Polypropylene Injection Diaphragm (CPID) speaker expands sound resolution so every note is distinct.
The exceptional picture quality of the HT-F9750W is immediately noticeable, even on the Ultra-High Definition (UHD) TV sets coming to market in 2013. Samsung's 4K Scaler Processor generates true-to-life pictures with vivid colors, and also upscales high-definition content to UHD-level picture quality.
The Blu-ray component of the HT-F9750W can run multiple apps simultaneously, and also offers Samsung's latest Smart Hub and AllShare features. This 1,330-watt system is an excellent addition for any audiophile looking for the finest home entertainment experience.
Blu-ray Player BD-F7500
Samsung's BD-F7500 Blu-ray Player enhances the joy of watching your favorite movies by transforming ordinary SD and HD content into a superior resolution, such as that delivered by Ultra High Definition (UHD)-supported televisions. This slim player offers a dual-core processor and Samsung's Smart TV technologies including Smart Hub and AllShare, so that users can enjoy unparalleled picture performance through an intuitive, streamlined user interface.
The BD-F7500's video processor includes a proprietary Samsung algorithm that improves the visual quality of block-based low bit-rate coded images and reduces blocking artifacts. This feature is especially important for maximizing the visual quality of content streamed from the Internet, as well as improving the quality of picture sharpness. Furthermore, the unit's 900MHz x 2 high-performance dual-core chipset boosts the unit's image processing capacity so consumers can enjoy the highest picture quality and the fastest web-browsing speed.
For more info, please visit www.samsung.com