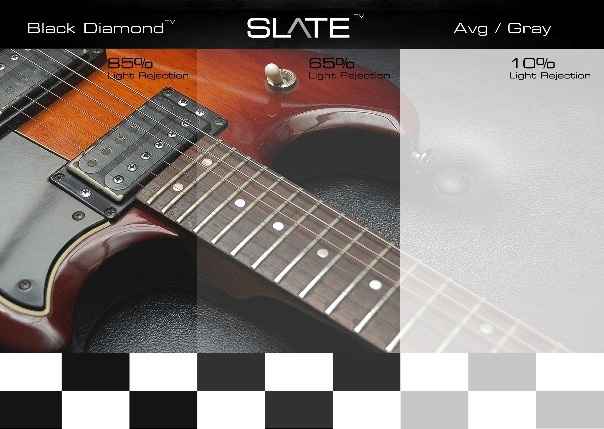 Screen Innovations (SI) has just released a new projector screen model with ambient-light rejection technology – the Slate.  The new Slate screen joins SI's current Black Diamond model in their line-up of screens optimized for high ambient light environments.
The Slate was developed to provide the best picture possible with ambient-light at a lower price-point than the existing SI Black Diamond screen.  The Slate can eliminate 65% of room ambient light, while outperforming typical matte white or gray screens that can only reject about 10% of ambient light.
SI offers the Slate in sizes up to 200″ 16:9, while larger sizes can be provided on request.  The Slate is a flexible multi-particle optical screen with high performance and efficiency, which allows it to be paired with even lower light output projectors, thus offering a desireable price-performance solution.
Slate is available in Motorized, Zero Edge and Fixed Frame screen formats. Fixed frame screen pricing for 100" diagonal 16:9 is $1799.00 U.S, and for a 187″ is $3899 U.S.  The Slate is made in the U.S.  For more details, please visit: www.screeninnovations.com.