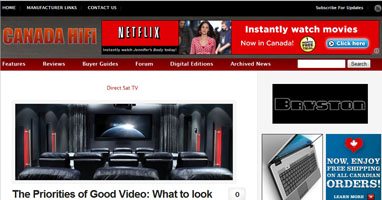 If you enjoyed getting your fix of audio video information from novo.press/ in the past, we hope that you will enjoy it even more from our newly redesigned website.  The new CANADA HiFi website offers a modern, visually attractive interface that is a pleasure to navigate and makes locating news, features, reviews and buyer guides easier than ever before.  A number of new features will provide all visitors an enhanced browsing experience.
The new CANADA HiFi website offers social network integration with sites such as Facebook, Twitter, Digg, Google Bookmarks and several others.  This will allow visitors to connect and share content from our website with their online friends and provide instant feedback on our content.  A new comment interface will allow visitors to share their comments at the bottom of every article posted on novo.press/.
To satisfy audio video enthusiasts on the go, the redesigned website is now completely mobile friendly. When accessed from smart phones and mobile devices such as the iPhone, iPod touch, Blackberry, Android and Windows Phone 7 devices, the site is automatically resized to fit smaller screens. Of course the new website is also fully compatible with the iPad and all incarnations of tablets.
We would be pleased to hear your feedback, so please visit our forum at novo.press/forum and let us know your thoughts!