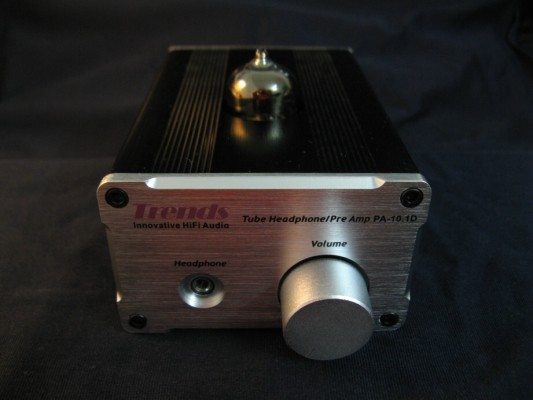 Trends Audio has just announced the launch of its latest hi-fi product – the Trends PA-10.1D Tube Headphone/Pre Amplifier. The PA-10.1 provides all functions of a headphone amplifier and pre amplifier plus the flexibility and fun of being able to tailor the sound through tube rolling. The new Trends PA-10.1D includes a switchable input (CD/DAC or PC/iPod) as well as twin outputs for those who would like to take advantage of bi-amping. Meanwhile, it applies ELNA capacitors which result in improved transient performance, enhanced spatial accuracy and low frequency realism.
With pure class-A circuit and low voltage hybrid (tube/transistor) design, this new preamp is claimed to provide audiophile quality sound, while being easy and safe for the DIYer. The PA-10.1D Tube Headphone/Pre Amplifier provides an affordable way to get into the true high fidelity headphone hobby.
Additional Features:
6DJ8/6922 and 12AU7 series support by switching jumpers.
One dual-triode 6DJ8/6922 or 12AU7 as voltage amplifier
Two Mosfets as output drivers.
Two precise screw-driver pots to adjust tube bias.
Audiophile-grad parts and components
4mm thick aluminium case for shielding & grounding to maximize S/N ratio.
Initial shipments will begin November 8, 2011 with a promotional MSRP price, as follows :
PA-10.1D SE Tube Headphone/Pre amplifier (w/ Russian 6H23n Tube) US$299
PA-10.1D GE Tube Headphone/Pre amplifier (w/ U.S.A GE 12AU7 Tube) US$299
More details can be found at: www.trendsaudio.com.