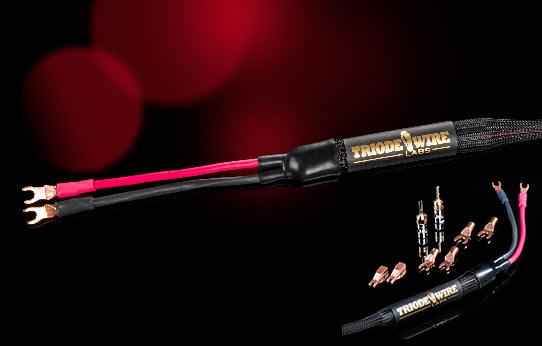 Triode Wire Labs has just announced their audiophile speaker cable line – the American Speaker Cables, which feature: deep cryogenic treatment; compression die forging connector attachment and; a completely passive "ground plane" noise reduction technology.  The new Triode Wire Labs speaker cables will include top-of-the-line Cardas pure copper milled spades or Cardas CAB banana plugs. 
Triode Wire Labs speaker cables have been deisigned to provide very wide bandwidth, natural tonal density and balanced coherent soundlity.  American Speaker Cable is comprised of 210 separate 30 guage conductors in standard format or 420 conductors in bi-wired format.  The standard solid billet milled pure copper spades from Cardas that are installed via a method of hydraulic compression die forging of 16,000 lbs. force.  This cold-fused / cold-welded technique provides the best possible joint available. 
Ground Plane Technology is a proprietary technology that is a purely passive noise reduction technique that removes spurious EMI/RFI anomalies and therefore improves performance.
The carefully selected materials combined with a quality build produce are stated to "perfect natural PRAT (Pace, Rhythm & Timing)", presenting tranparency to the source and offering audiophile performance at an affordable price point.  
Designed for work effortlessly with all types of amplifier and speaker combinations, including flea watt SET's horn systems to mega-watt solid state monoblock electrostatics, and everything in-between!
The Triode American Speaker Cables are hand-made in the USA with 100% USA-produced components and offer a 30-day conditional Audition Trial.  All speaker cables are burned-in with an audiodharma Cable Cooker.  An Anniversary Edition 3.5 adds premium all-copper billet Cardas CCGR binding posts.  Optional in-stock Cardas Rhodium over Silver plated banana connectors (CAB) available.  Bananas require the use of Cardas Quad-eutectic solder
Each pair of Triode Wire Labs Speaker Cables will be serial numbered with an official certificate of authenticity.  Cables are shipped with an Earth-Friendly, reusable, biodegradable Triode Wire Labs drawstring bag.  The Triode Wire Labs Speaker Cables are now available at a starting MSRP of $499/6ft pair.  Look for more details at: www.triodewirelabs.com.