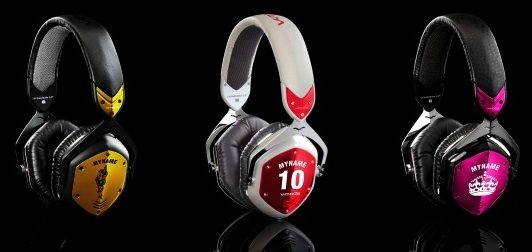 These days fashion expressions seem to be fully integrated with new products and so it goes with V-MODA's new Crossfade Customs personalization option for its Crossfade LP headphones.  It's fun to play dress-up! 
The V-MODA Customs Program allows customers to choose from six plate color options, four unique engraved designs with custom text on a choice of four base frames. Initial designs include a numbered jersey, crown, skull snake, and vinyl immortal angel logo.  Colors available for the metal Crossfade LP plates are Gold, Black, Gunmetal, Pink, Purple and Red. 
The Crossfade LP features 50mm dual-diaphragm drivers, noise isolation, memory foam ear-cushions, metal memory headband and signature "V-ANGLE" design.  Each pair includes an exoskeleton hard case, soft cleaning cloth, 24K gold plugs, as well as both an audio only and three-button remote Kevlar cables.
For a limited time, the Crossfade Custom Program will be included with every new Crossfade LP when purchased direct from V-MODA's website.  The MSRP is $199 U.S.
More details at: v-moda.com