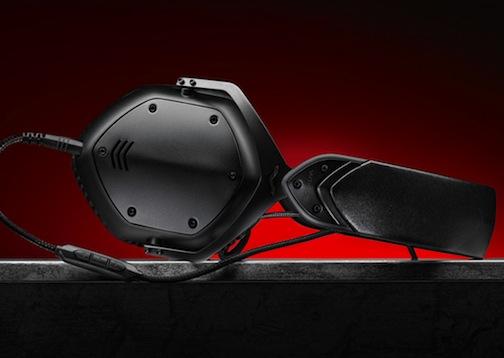 V-MODA, has just released their latest product in their Live PlayTM series – the Crossfade LP2 Metal Headphones. This new LP2 builds on the foundation of the former Crossfade LP, with DJ-approved acoustics, military-grade durability and customization options.
V-MODA's endorse yourselfTM customs program gives customers the option of expressing themselves through the choice of an array of 12+ colors of interchangeable ear shields. These ear shields can also be custom factory etched with artwork and logos, letters or numbers.
One of the new refinements is its patent-pending and biggest-in-class 50mm Dual-Diaphragm Drivers and V-PORT 3D staging. The driver has been designed to be energy efficient as well as full-range. The driver's diaphragm is constructed of a harder inner ring for mids & highs and a soft outer ring for deep bass extension.
V-MODA's labs, found that many headphones artificially spike the highs above 8kHz to make up for older recordings, hearing loss and for users who listen at lower volumes. The Crossfade LP2, is however, fine-tuned with a 31-band EQ, which plays a vital part in creating its unique Live PlayTM sound signature, while protecting the ears from permanent hearing loss or damage.
The Crossfade LP2 is tested under strict MIL-STD-810G military testing and V-MODA's even tougher VMQA guidelines, of which a few are listed below:
– Kevlar reinforced detachable cables & 45-degree plug strain relief – can each bend over 1 million times
– Survives 70+ drops on concrete from 6 feet, approximately 3x the industry standard
– Headband can bend 10+ times flat, not break and retain its memory and shape
– Virtually inaudible sound variances across the spectrum of less than 2dB from unit to unit
– MIL-STD-810G environmental tests e.g. high & low temperatures, humidity, salt spray and UV exposure
Extensive research went into the shape and materials of the headband and memory foam ear cushions, resulting in a tailored, fashionable fit without unsightly gaps and minimal pressure on the head and ear.  In addition, the Crossfade LP2 is extremely lightweight for added comfort to allow for extended use.
Features:
– Stylish interchangeable shields (matte black installed and gunmetal colors included)
– Detachable Kevlar-reinforced cables with 24k gold-plated plug
– 3.5mm fabric 3-button remote control cable for Apple products
– 3.5mm universal-fit fabric audio cable for devices with a 3.5mm port
– Hard exoskeleton carrying case, ensuring headphones are protected in style
– 2-Year V-MODA Premier Warranty
– Immortal Life Program – 50% off replacement set due to consumer-damage
The Crossfade LP2 is currently available at a MSRP of: $199 U.S. (including two pairs of ear shields). Additional color ear shields are: $25 U.S. and are customizable for $45 U.S.
Look for more details at www.V-MODA.com.