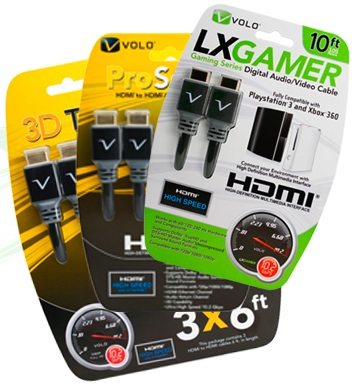 In audio-speak audio/video cables are sometimes affectionately referred to as loom.  Volo Products has just recently added to the choices of loom with their new line of High Speed HDMI cables. The new Volo Universal, Pro and LX Gamer Series HDMI cables have been developed to provide high-speed, durability and quality that won't break the bank..
Volo's Universal Series is the company's best-selling product with over 500,000 units sold. The updated Universal line is industry certified Category 2 High Speed HDMI and offered in environmentally-friendly packaging.
Two new premium lines: Pro Series and LX Gamer Cables are both certified Category 2 High Speed HDMI with Ethernet. New combo packs of Universal and Pro Series cables are now offered, providing greater value.
Universal Series (value oriented performance):
Available in 4', 7', 12', 15' and 25' lengths
Support resolutions of 1080p as well as 3D and 4K
MSRP: $12.99 – $49.99 U.S.
Pro Series (high performance):
Ethernet supports 3D and Audio Return Channel
Delivering 10.2 Gbps and greater, 240 Hz refresh, 1080p, 3D and 4K
Available in 7'and 15' lengths
MSRP: $19.99 – $29.99 U.S.
LX Gamer (high performance with extra durability)
Same specifications and features as the Pro Series with added toughness
Available in 10' lengths
MSRP: $24.99 U.S.
Combo value packs:
HD Triple Play – 3 x 6' Universal Series High Speed Cables. MSRP: $29.99 U.S.
3D Triple Play – 3 x 6' Pro Series High Speed with Ethernet Cables. MSRP: $39.99 U.S.
Volo cables include a limited lifetime warranty and are available through retailers as well as direct through the company website at http://www.voloproducts.com.