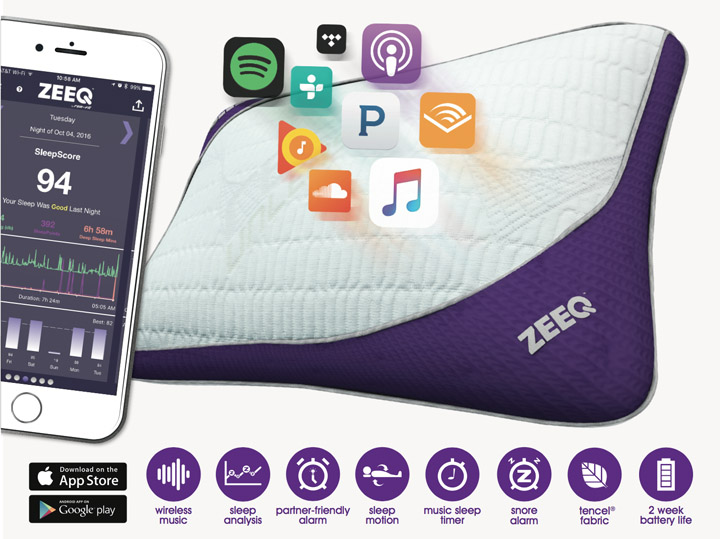 Just over a year after bringing ZEEQ Smart Pillow to life through a successful Kickstarter campaign, the REM-Fit team announces that ZEEQ is now available for preorder on bestbuy.ca. The smart pillow will also be available in 35 Best Buy Canada stores for Christmas.
The "World's 1st Smart Pillow, the ZEEQ Smart Pillow combines personal audio sound, sleep tracking and snoring solution technology for the most soothing, restful night of sleep possible. Featuring adjustable foam fill and a high-quality pillow cover made with moisture-wicking Tencel botanic fiber, this memory foam pillow combines sleep technology with luxurious comfort.
ZEEQ was developed by an in-house product development team and launched on Kickstarter in July 2016. The project was funded in just 16 hours, and reached 800% of its initial goal by the end of the campaign. After delivering on the campaign by Christmas of 2016, the team brought ZEEQ to CES, where the smart pillow earned a CES Innovation honor and garnered national attention, including an appearance on CNET Live.
The ZEEQ Smart Pillow is available for pre-sale purchase at bestbuy.ca and will be available in 35 Best Buy Canada locations in major cities across New Brunswick, Ontario, Manitoba, Alberta and British Columbia, in time for Christmas. To learn more, and to take advantage of special preorder pricing, visit www.bestbuy.ca