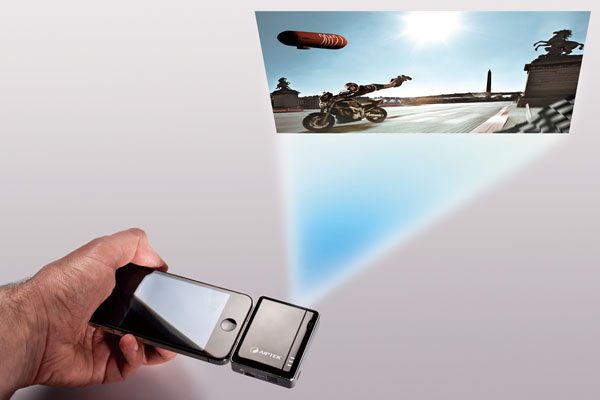 German manufacturer Aiptek has just announced two pico projectors designed to be used with the iPhone. The MobileCinema i20 is one of the smallest pico projectors in the market. It simply plugs into the iPhone's 30-pin port and offers nearly two hours of projection, displaying an image up to 50 inches in a dim environment.  The MobileCinema i20 has a resolution of 960×540. During projection, users can pinch, slide to the next page, etc, on their iPhone as they normally do.
The MobileCinema i50S is an iPhone 4/4S sleeve pico projector that looks like an iPhone case. The i50S offers better projection quality than the i20, providing richer colours in high contrast powered by DLP technology. The MobileCinema i50S features higher lumens than the i20, turning the iPhone into a powerful business machine. Thanks to its 50 lumens DLP optic light engine it produces an image that is bright enough to dazzle the eyes of the surrounding crowd, anywhere, anytime. The i50S also doubles as a charging station, offering almost a full iPhone recharge when connected.
The MobileCinema i20 will be available for purchase on the company's website in March 2012 and the MobileCinema i50S will be available in April 2012.
For more info, please visit http://aiptek.eu/index.php/en/