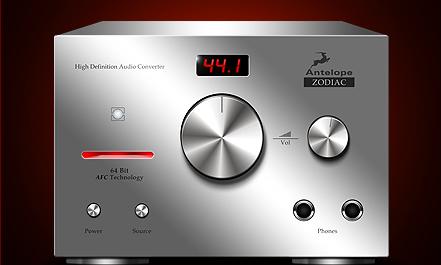 Antelope Audio has just released their new Zodiac USB DAC. The Zodiac utilizes 64-bit clocking technology, with Antelope's proprietary Acoustically Focused Clocking (AFC) and Jitter Management that are claimed to provide a higher level of audio quality.
The 64-bit clocking technology in the Zodiac is said to be the same used in Antelope's pro-audio equipment that's used by studios. The Zodiac also provides a sampling rate of up to 192 kHz and a dynamic range of 129dB, positioning it among the higher quality DACs. The Zodiac DAC features 2 x S/PDIF, 2 x Optical inputs, balanced & unbalanced analog outputs and a high-speed USB 2.0 connectivity through a custom USB chip, working with native drivers.
The proprietary USB chip allows a rapid multi-platform plug and play, requiring no drivers installation for OS X, Windows and Linux. Users can download a free Zodiac Control Panel, which is available for OS X, Windows and Linux and allows remote control of the device and a one-click firmware update.
A year ago Antelope Audio launched the Integrity Line of USB DACs, starting with the 192 kHz Zodiac+ and followed by the unprecedented 384 kHz Zodiac Gold in December 2010. The company is now completing the range with the Zodiac USB DAC, which is it's most affordable product yet.
The new Zodiac High-Definition 192 kHz USB DAC is currently available at an MSRP of: $1,895 U.S.
Look for more details at: www.antelopeaudio.com.