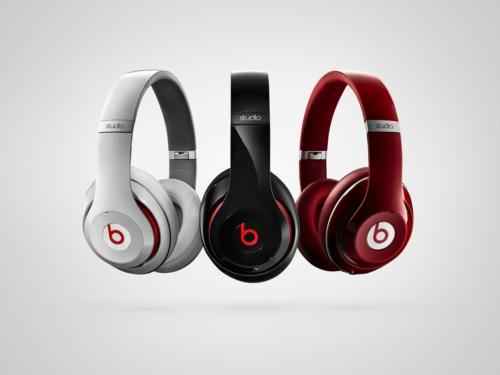 Beats Electronics (Beats), have just introduced their next iteration of the Beats By Dr. Dre Studio headphone – simply referred to as the new Beats Studio headphone.  The original Studio headphone is what put Beats on the map.  The new Beats Studio headphone is an improvement on the incredibly successful original – with higher quality, new innovation, refined design and better sound plus noise-cancellation.  
Each new Beats Studio headphones is tuned with a new proprietary digital software called the Beats Acoustic Engine (BAE), for improved sound.
All details with the new Beats Studio have been looked at and the result is the use of lighter materials, increased strength, improved flexibility and an acute attention to detail.  No longer are there any visible screws nor straight lines. The new design features a new ergonomic adjustment mechanism around the ear cups that allows adjustment to fit the head without restriction, via a single floating pivot.
Adaptive noise cancellation (ANC), which switches between two modes is now part of the new Beats Studio. In music mode, sound quality and noise cancellation are perfectly balanced; however, when unplugged, the headphone provides a more aggressive noise reduction experience.  The ANC runs on a rechargeable, 20-hour, Lithium-Ion battery, which can be charged using any USB outlet. A 5-light LED battery indicates charge level and an auto on/off saves the battery when the headphone is unplugged.
The new Beats Studio will be available in August 2013 at a MSRP of $299.95 U.S.  For more information visit www.beatsbydre.com.