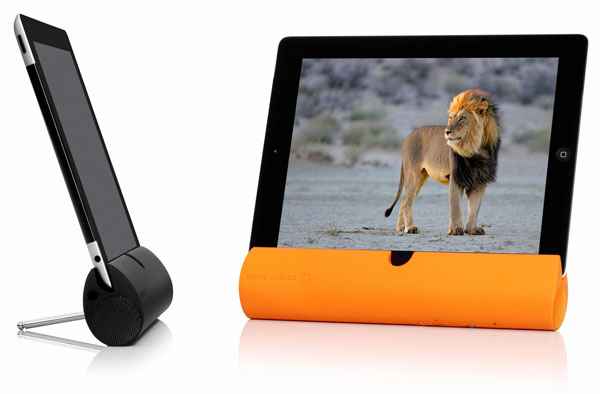 The Carbon Audio Zooka Bluetooth Speaker Bar was introduced and received very well at CES 2013 and is now available in Canada thanks to Canadian distributor NVU Electronics.  Zooka is a wireless bluetooth speaker bar ($99.99), available in seven different colours, that is designed with portability in mind.  It is perfectly compatible with iPads or any tablet computer, and can act as a tablet stand, with its removable metal kickstand. It can also be used as a standalone speaker, or placed on top of a laptop computer screen, and has been designed so as not to obstruct the web-cam on the screen. Zooka is a speaker that allows mobile users to enjoy their multimedia with high-quality sound, while keeping style and portability in mind.
Additional features include a built-in microphone which allows users to use Zooka as a portable Bluetooth speakerphone. It has 2 x 30mm speaker drivers on each end of the speaker bar allowing you to achieve a true omni-directional soundstage. The built-in rechargeable battery allows for up to 8 hours of play time on a single charge.
For more info, please visit www.carbonaudioinc.com.  To contact the Canadian distributor NVU Electronics, please visit www.nvu.ca or call 1(866)411-2NVU.