Marantz will very soon be releasing its first Network AV Receiver with Dolby Atmos capability, the SR7009 ($2,199), thanks to which home cinema enthusiasts will be able to experience a new world of enveloping sound. At the same time, its smaller, more affordable brother, the SR6009 ($1,399), will be hitting the stores.  Highlights of each new model are outlined below.
SR6009 – 7.2ch Network AV Receiver with Wi-Fi and Bluetooth
The new SR6009 features a solid aluminum trap door to hide the control buttons and front connections. While looking stylish, it pays extra special attention to audio quality, and includes decoders for standard audio as well as for Dolby TrueHD and DTS-HD Master Audio to create a highly immersive and richly detailed surround sound experience. Moreover, the 7-channel amplifier with 185W equal power per channel comes with the latest current feedback topology and the Marantz own developed high-definition HDAMs, to deliver the power and the finesse to astonish and astound. For true versatility, the SR6009 includes the most advanced network capabilities opening up almost unlimited sources of music content. This receiver offers full audio streaming capabilities thanks to the built-in digital media player, which can decode music files stored on a PC or external storage unit streamed via the network. Almost any file is possible including MP3, WMA, FLAC HD, ALAC, WAV192/24 & AAC. Gapless, DSD, and AIFF are also supported for the full enjoyment of live concerts or classical recordings. Next to Apple AirPlay technology, the SR6009 is ready to access thousands of Internet radio stations, as well as on-demand music streaming services such as Spotify Connect. To round up the main feature set, it has Audyssey DSX and DTS Neo:X 7.1 processing, an iPod digital-compatible USB input and a Phono MM input for vinyl fans.
The video section comes with advanced video processing, support of the latest HDMI standard (4k 60Hz pass through), 7+1 HDMI inputs and dual output for main zone & multi zone. Even more, the receiver features high-quality video processing technology to upscale standard of high definition video to Full HD 1080p and even 4k full rate (50/60 Hz). All are compatible with the latest HD displays and HD source devices.
As with many of this year's models, the SR6009 includes the latest Marantz smart ECO mode that reduces power consumption significantly when the receiver is just used for background listening or running on lower levels without any negative impact to the audio quality. If the higher power is required while watching a movie or listening louder to your favorite music the SR6009 automatically switches to "full power output". The smart ECO mode has three settings: Auto, On and Off. Calibration and optimization are also quick and easy with the Audyssey MultEQ XT (Pro ready), Setup Assistant and Graphic User Interface overlaid on the picture. Pure enjoyment has never been easier.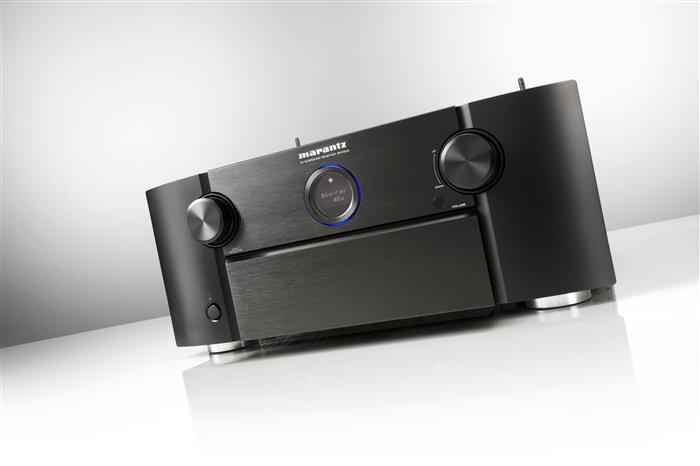 SR7009 – 9.2ch Network AV Receiver with Dolby Atmos
The new SR7009   holds the same big feature set as the SR6009, but goes even beyond it with more unique sound technologies. It comes with no less than nine discrete amplifier channels, each with 200W of pure power. Imagine: nine strategically-located speakers with audio processing capabilities that go even further – thanks to its four DSP (Digital Sound Processing) engines the SR7009 is capable of handling up to 11.2 channels to fully support Audyssey DSX, DTS Neo:X 11.1, as well as the latest decoding technology Dolby Atmos – the home theatre enthusiast will be flooded with the absolute ultimate in surround sound sensation. With Dolby Atmos, sound comes alive from all directions, including overhead, to fill the home theater with astonishing clarity, power, detail, and depth. The SR7009 has the processing power to run a more enveloping, 7, 9 or 11 channel Dolby Atmos layout using 5.1.2, 5.1.4, 7.1.2, 7.1.4* or 9.1.2* configurations utilizing ceiling mounted, or Dolby Atmos-enabled speakers. A 5.1.2 or 5.1.4 speaker configuration is based upon a traditional 5.1 speaker layout complemented by 2 or 4 overhead or Dolby Atmos-enabled speakers. A 7.1.2 or 7.1.4 configuration is based on a 7.1 speaker layout with 4 overhead, or Dolby Atmos-enabled speakers. A 9.1.2 configuration is based on a 9.1 speaker layout with 2 overhead speakers.
To finish off, the SR7009 comes with even 3 HDMI outputs and a 13.2ch pre-out capability for extreme versatility. The most advanced Audyssey MultEQ XT32 / Sub EQ HT/LFC (Pro ready) room correction suite adds to the most accurate calibration of the speakers to make every seat in the room is a 'sweet spot' for audio.
The SR7009 and SR6009 are expected to be available in September 2014.  For more info, please check out www.marantz.com
Comments are closed.