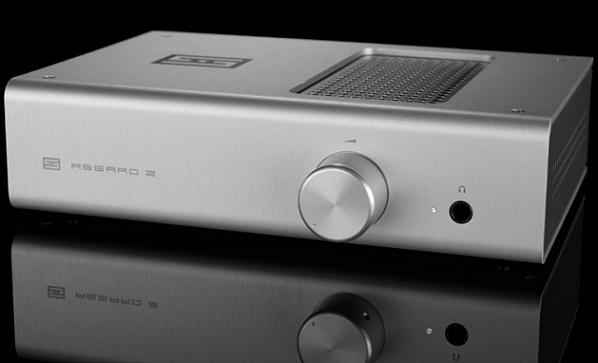 Schiit Audio, a company that is getting to be known for its high value audio products, has recently announced their new Asgard 2 headphone amplifier.  the Asgard 2 is the next generation of Schiit Audio's very popular headphone amplfier model and is a complete redefinition of Asgard.  The new Asgard 2 adds both a higher-performance gain stage based on the flagship Mjolnir amp, as well as convenience features such as selectable gain and preamp outs.
IEMs are a special focus of Asgard 2. At the low gain setting of 1.5x, the noise floor is exceptionally low and the Alps Blue Velvet pot provides an very fine range of control, with excellent channel matching.
At the same time, Asgard 2 offers a high gain setting of 6x, and can provide up to 1W of power into 32 or 50 ohms, which makes it suitable for many power-hungry planar-magnetic, or orthodynamic headphones. With output voltage up to 30V p-p, it also pairs well with high-impedance, 300 and 600 ohm headphones.
Asgard 2's all-new gain stage is derived from the Mjolnir design, featuring a high-voltage cascoded front end to reduce distortion by almost 10x relative to the original Asgard. This gain stage feeds MOSFET outputs run in true Class A via current sources.
Like all Schiit products, Asgard 2 is made in the USA. It features a 5-year warranty and 15-day money-back guarantee for in-home audition.
Specifications:
– Frequency Response: 20Hz-20Khz, -0.1db, 2Hz-400KHz, -3dB
– Maximum Power, 32 ohms: 1.0W
– Maximum Power, 50 ohms: 1.0W
– Maximum Power, 300 ohms: 380mW
– Maximum Power, 600 ohms: 190mW
– THD: Less than 0.008%, 20Hz-20KHz, at 1V RMS, high gain mode (worst case)
– IMD: Less than 0.010%, CCIR at 1V RMS, high gain mode (worst case)
– SNR: More than 102db, unweighted, referenced to 1V RMS, in low gain mode
– Crosstalk: Less than -72dB, 20Hz-20KHz
– Output Impedance: Less than 2 ohms
– Gain: High = 6 (15.6db) or Low = 1.5 (3.5db), via rear switch
– Single-ended Class A with single voltage gain stage
– Protection: standard muting relay for delayed turn-on and fast turn-off
– Internal power supply with 4 separate power supply rails and 20,000uf of filter capacitance
– Power Consumption: 30W; Size: 9 x 6 x 2.25"; Weight: 5 lbs
The new Asgard 2 has a MSRP of $249 U.S. which is the same as the previous model.  Look for more details at www.schiit.com.