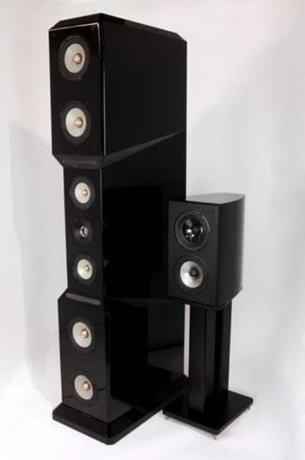 Von Schweikert Audio Corp has just announced that they will be premiering there new Universe Holographic Projection Speaker System (code-named VR-100XS) at the Axpona Hi-Fi show this March.
The Universe system is purported to be a state-of-the-art music system that is aimed at showing where technology is headed. The Universe is said to be the latest in holographic sound projection technology.
The Universe is comprised of a four-piece speaker system that features two main towers with two outboard subwoofer modules. In addition to holographic sound projection, the VR-100XS also has built-in Room Bass Correction that eliminates the dips and peaks caused by boundary reflections, which results in improved overall bass frequencies. The new Universe system has six patents pending, reflecting its uniqueness in the industry..
Key Features:
• Twenty drivers, all using metal alloy construction with ceramic damping;
• Holographic Sound Field Projection driven by a point source array;
• Time Aligned and Phase Coherent driver array for correct image focus;
• Cardiod/Omni Radiation Pattern ensures complete surround capability;
• Single-Driver transient response replication offered by Servo Circuitry;
• Control of cabinet vibration ensured by Pat.Pend. Noise Cancellation;
• Elimination of room bass standing waves by Pressure Equalization.
Pricing and availability of the system are yet to be announced but more information is expected in March. Look for additional details at: www.vonschweikertaudio.com.